Liberty Slots
Liberty Slots
Even if you are not American you will definitely have heard of the Statue of Liberty and the Liberty Bell both of which are iconic symbols in the United States which symbolize freedom and the development of the country. It is only nature that this symbol has been used in many areas of life in America and around the world. Liberty Slots Casino is proudly carrying the liberty flag, offering great games for Americans. Slots are also one of the benefiters of this symbol. In fact the first slot game every invented was called the Liberty bell. It was invented by a car mechanic in the back of his house, name Charles Fey. He was obsessed with the motions of spheres and where they would come to stop and came up with the first slots machine named the Liberty Bell.
The Original Liberty Bell Slots Game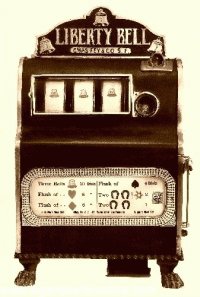 The Liberty Bell was made up of three reels or cylinders as they were then and at different places on the cylinder were painted hearts and in one place on each cylinder was a picture of a cracked bell. There was a lever at the side of the machine which when pulled would set the cylinders in motion, and if the three bells landed together on the same line when all cylinders came to rest then a win was declared. The Liberty Bell was invented in 1895 and since then there have been many developments in online slots and a number of other slots games with similar names.
Modern Day Grand Liberty Slots

Grand Liberty Slots which can be found at Slotland Casino amongst other casino is a five reel thirty payline slots game. In this game there are free spins and expanding wilds which can contribute with winning opportunities and it is not manually operated but of course digitally with a random number generator. This slots game also offers a progressive jackpot which is awarded when five of the Liberty Bell Symbols land on an active payline when you have placed a maximum coin bet. Free spins can be won when three or more of the white scatter starts appear on your screen and during the free spins the wild Statute of Liberty appears and expands when landing on an active reel. There is also a bonus game which takes place on a separate screen and is activated when three or more of the gold stars appear anywhere on the screen. The reels change into a grid where you can pick objects to reveal winning multipliers until you receive the word collect and you are returned to the main slots game.
Other Liberty Slots
There are many other slots games with similar themes relating to the free world of America including slots such as the Mayflower slots and the Liberty slots game from Playtech which is made up of three reels and a single payline where the maximum payout is 5000 coins for three of the Liberty statue heads on the payline when you have placed a three coin bet. With a two coin bet you receive 2000 coins for three of the Liberty Heads and for a single coin bet you receive 1000 coins with a maximum three coin bet. Liberty is a generous word for everyone whether at war or peace and being able to play casino games, especially slots with the same theme makes you feel part of history for yourself and for the nation that you live in.