Weed Whacker Scratch Card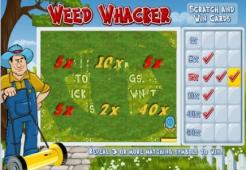 The Weed Whacker game is an instant win scratch card game that is packed with fun and a great lively atmosphere. In this game, like the casino slots with auto play, players can click on a reveal button that will do all the work for them but the truth is most of the fun comes from the interactive mowing or whacking of the lawn that is offered.
Coin Size Choices
Once players have clicked on to this screen they are presented with a green patch of land and a friendly looking gardener. Firstly players need to place their bets which range in coin size from $0.05 up to $10 with the option of choosing $0.10, $0.25, $0.50, $1, $3, $5, $7 and $10. This is a very wide and generous range of coin sizes given for this type of instant win game. Once the coin size has been chosen and the bet placed all that remains is for players to choose the reveal button or to opt for the manual scratch off which is definitely the more fun option for this game.
Match Two Numbers to Win
As the lawn mower or as some like to call it the weed whacker does its work, squares are revealed with different multiplying numbers. If two of the numbers revealed match, then the player is a winner. The amount that the player wins is equal to the revealed amount multiplied by the coin bet placed. The possible wins range from 1x the coin bet placed up to 80x the coin bet placed and also include 2x,5x, 10x and 40x. If a coin bet of $10 has been placed and two 80x squares are revealed players can win $800! A number of casinos offer the Weed Whacker game as a downloadable game in addition to being able to find it as a flash game. Flash games are instant games where players do not need to download the casino or game to their computer and can play directly from the web browser of the casino. Not only are they receiving an instant access game but this is also an instant win game. Weed Whacker can also be played for fun or practice but the truth is with such a wide range of coin sizes players can get to know the game as they play for real money and increase their chances with higher coin bets as they go along. For fun and excitement with a definite amount of humor, log into the Weed Whacker game for instant results.