Roaring Twenties Bingo For Players That Love The Game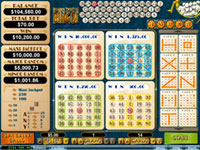 Bingo is one of the most popular games in any casino. It has excitement, large prizes and is also very easy to play for gamblers of all ability levels. Those that love the game are always looking for something new on this tried and true favorite and, if you are that person, you really need to try out Roaring Twenties Bingo . This progressive bingo game from SlotoCash will satisfy all your bingo cravings and offers you the option to play up to 100 cards at the same time.
Playing Online Bingo
Unlike a basic bingo game Roaring Twenties Bingo provides many combinations of winning patterns. It is a single player game which means you are playing a unique set of cards and games against the computer, not against other players. Although it is classed as an advanced bingo game it is still a great option for someone new to online wagering. Players start by choosing a number of cards to play from one to one hundred and the wager amount per card. This can range from a low of just a penny to up to five dollars per card. In addition you have the option to double your bet and draw five extra balls that will increase your chances of winning it big. This doubling occurs on your wager total, not on the winning amount of the individual cards in isolation.
Keeping Track
Online bingo is not the same as the bingo you may have played at your local bingo hall. The computer will automatically mark all the cards that you are playing when a match between the ball drawn and your cards occurs. Just like traditional bingo there is a wild that, when drawn, automatically fills in the center square on your cards. In addition the computer will also reorganize your bingo cards as the game progresses. This allows you to keep the cards that are closest to forming winning combinations at the top of the screen. All you have to do is sit back and watch the patterns form on the cards.
Winning The Progressives
Roaring Twenties Bingo offers three different progressives. The biggest progressive, the Maxi, pays out if you have a blackout. This means that all squares on a card are filled as part of the winning combination. The two smaller jackpots, the Major and the Minor progressive will trigger automatically regardless of the winning combinations. This adds to the excitement of the game and also to your winning opportunities. If you like the idea of nostalgia in your game themes you may what to try out the new Glitz & Glamour slot game the next time you spend time playing Roaring Twenties Bingo. It is highly recommended that you try out other 20's themed games at Grandparker Casino and Classycoin Casino .