5 Reel Slot Games
There are more 5 reel slot games than any other variation at online casinos for US players. They run the gamut from bonus slots to free spins slots to multi-line slots. Moreover, with so many theme-based slots available today, you can play slots based on game shows, slots with ancient Egypt themes, medieval themes, sports themes, music themes, movie themes, animal themes, and a cornucopia of themes - any of which will become a favorite. Therefore, we would like to provide you with four of our top 5 reel slot games you may like to play at our US casinos .
Reel Deal Slots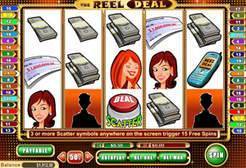 Reel Deal Slots : Five reels and 20 paylines are only the beginning on this super slot game. The big win is up to 10,000 times the coin bet, and in the awesome bonus round, a win is absolutely guaranteed. The game is styled after the classic television game show "Deal or No Deal", and it thoroughly captures the spirit of that classic, funny and sexy TV game. The bonus round includes valises filled with cash and the symbols include pretty girls and a smart-aleck host who is a dead ringer for Martin Short. The player is in the role of the guest on the game show, and the winnings are huge! This game keeps you playing because of the constant small returns, building up to the big score. For reasons that we do not know, this awesome game disappeared for a while, but it is back now, and every bit as good as we remembered it. No slot fan should miss this one.
Big Foot Slots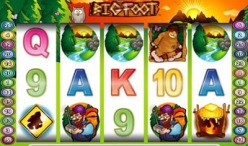 Big Foot Slots : As its name might imply, Big Foot Slots is a huge monster of a slot game. This great Sasquatch of a game has not only five reels, but 25 paylines that keep the action fast and furious. The images are all silly cartoon renderings of images of the Pacific Northwest married cleverly with slouching Big Foot beasts. In the hunt for this Big Foot there are loats of free spins, wildcards, scatter symbols, and multipliers that can bump your winnings up to as much as 20x! While aimed at all levels of player, Big Foot will be especially appealing to high rollers with a top coin value of $10. This means that, when all lines are bet (and who among us would not bet all lines?) the maximum bet per spin comes to a whopping $250! The big jackpot on this Big Bad Boy is a generous 5000 coins, and that totals out to $50,000 at the $10 coin value. This big game is great looking and it returns generously, making every coin go for longer.
Safari Slots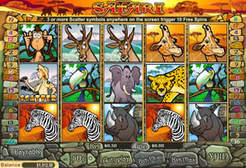 Safari Slots : This is a true African adventure among slot games! Though the images are cartoonish, the over-all look is gorgeous and it will really show off your big high-def computer screen. The theme of Safari Slots is, as the name indicates, an African photo safari. The animations are frequent, and every time the monkey comes up you will get a genuine giggle. 20 paylines keep the action fast and a maximum payout of 20,000 coins comes out to a humungous $200,000 if players are playing at the $10 coin value! This game features lots of free spins, wildcard symbols, scatters, and a fun pick-and-win style of bonus round that really make the winnings rack up fast. Everything about this game looks great and is easy to understand and use - truly the best of both worlds!
Cleopatra's Gold Slots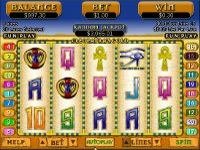 Cleopatra's Gold Slots is perhaps the most well-known slot online and offline. It is a 5-reel, 20-payline progressive bonus video slot game. Its stunning design and animations serve to enhance this slot game, and the bonus features are the icing on the cake. With Cleopatra as the wild symbol and a 2xs wild multiplier, you can rake in the coins when the Pyramid shows up three or more times entitling you to 15 free spins. These free spins are also accompanied by a 3xs multiplier. Even Cleo would have loved playing this slot game!
Phantom of the Opera Slots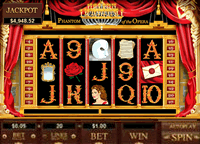 Phantom of the Opera Slots is one of our favorite 5 reel slot games to play. Beautifully designed and graphics that are right out of this well-known musical, you'd be hard-pressed to find a game that is both entertaining and lucrative. A 5-reel, 20-payline progressive bonus video slot, you will no doubt be familiar with the symbols including the Mask as the wild symbol and 2xs multiplier; the Letter as the scatter symbol that will also win you 5 free spins with a 3xs multiplier. This is one slot game you must play. It's a winner on all counts!
Mermaid Queen Slots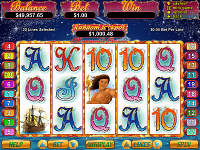 Mermaid Queen is another favorite of ours due to its gorgeous graphics, animations, and of course, its theme. A 5-reel, 20-payline progressive bonus video slot, the red-haired Mermaid is the star of this slot game. As a wild symbol, she will make her appearance on reels 1, 3, and 5 winning you 10 free spins. Unique to this slot, the first 10 free spin winnings are doubled and if you happen to get additional free spins during this round, they are tripled. Also, you will not soon forget hunky Neptune!
Rushmore Riches Slots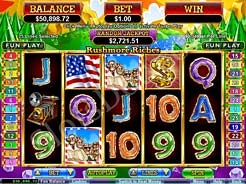 Rushmore Riches Slots is packed with bonus features. This is a 5-reel, 25-payline progressive bonus video salute to Mt. Rushmore. With the four presidents representing the wild symbols, and the Rushmore Logo as the scatter symbol; you'll have a grand time playing the bonus game as well winning up to 25 free spins with a 5xs multiplier. What a great way to celebrate the 4th of July playing this 5 reel slot game.
Play 5 Reel Slots Games
Out of all the slot games that feature 5 reels, we selected these popular slots that we thought you may like to play. Keep in mind that not all 5 reel slot games have the entire combination of free spins and bonus games. Nonetheless, we hope you enjoy playing them.